Cargo Tie-down is composed with Buckle, Strap and end fittings. The end fittings are optional according to specific requirement. It is widely used in transportation such as tow truck self-saving, cargo binding, cargo lashing and binding. Cargo Tie-down is widely used in all kinds of field with its advantages.

Cargo Tiedown System (Stitched Lashing)

Various colors and widths are available
Guarantees easy use by automatic length adjustment and click-type buckle
Reduces freight damage
Product damage may be prevented through the use of appropriate lash as per type
Offers customized printing
◆ 1"(25mm) Cargo Tiedown System

◆ 1.5"(35mm) Cargo Tiedown System

◆ 1.5"(35mm) Cargo Tiedown System
◆ 2"(50mm) cargo tiedown System

◆ 3"(75mm) Cargo Tiedown System

◆ 4"(100mm) Cargo Tiedown System


2 bolt Ratchet Lashing System (Non-Stitched Lashing) (Japan patent)
◆ Advantage of 2 Bolt Ratchet Lashing System
The Ratchet Bolt of existing lashing is sewed on with webbing. Please consider the size of the object being fixed before purchasing the product.
Existing sewed-on products cannot be length-adjusted. The 2 Bolt method is not sewed on, allowing for easy length adjustment.
Wide ranging belt sizes: 50MM, 40MM, etc.
Economical as the rachet, hook, buckle and belt are purchasable separately. The product allows for flexible response to various situations and needs.
Reusable and widely used in packaging. Reduces cost by containing various types of cargo.
◆ Compose of 2 Bolt Ratchet Lashing System
2 Bolt Ratchet : 1pc (

Japan Patent : 2009-001527

)
40mm & 50mm Lashing Webbing
Welded J hook : 2pcs
◆ How to use Lashing Webbing with 2 Bolt Ratchet Buckle-Non Stitched Lashing

◆ How to use Lashing Webbing with Buckle


End Fitting Cargo Tiedown System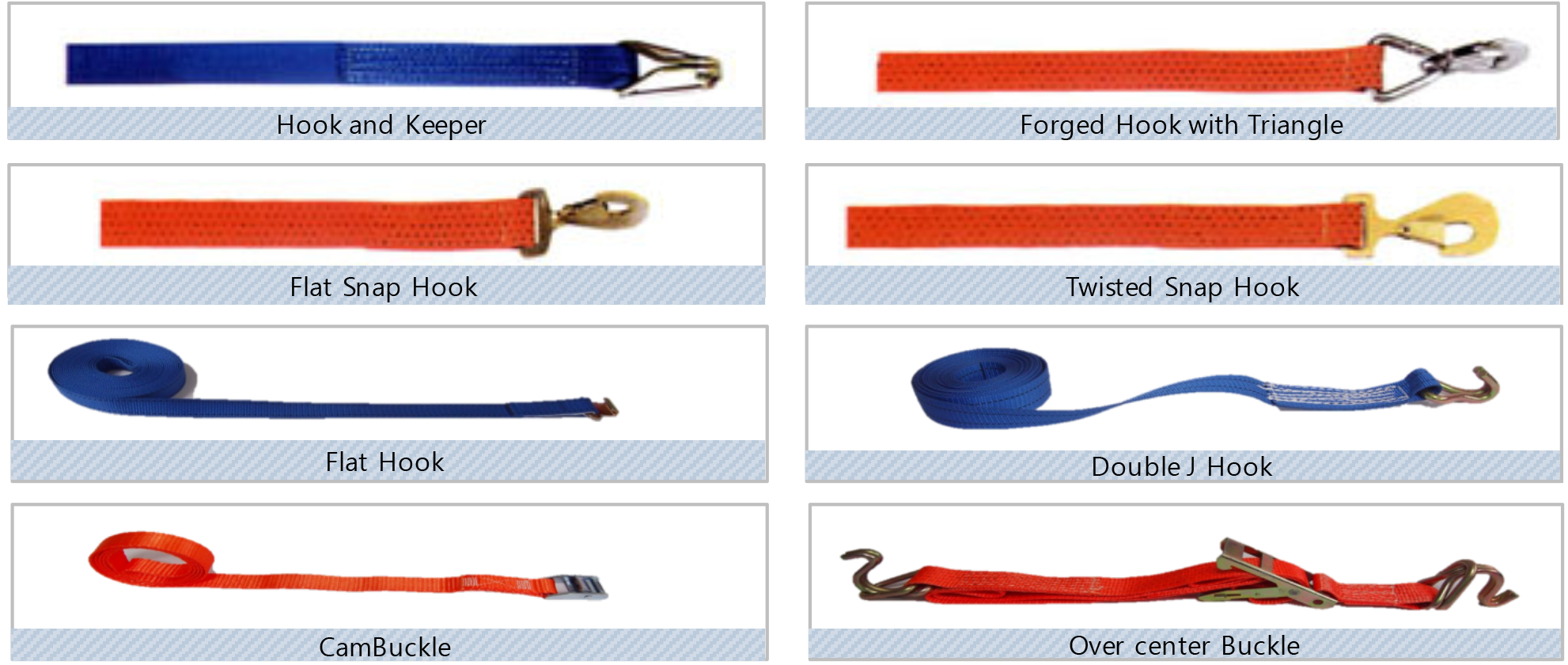 Various Belt Lashing


Actual examples of Lashing in use